By Will Morris
Making sure your WordPress site ranks well on search engines is critical for any online marketing strategy. There are many Search Engine Optimization (SEO) factors that affect the positioning of your posts and pages in search results. Backlinks can be one of the most confusing, but also one of the most crucial.
So what are backlinks? When used well, backlinks can lend authority to your site and offer higher rankings in Search Engine Results Pages (SERPs). However, if you don't have a solid backlink strategy, you could end up seriously damaging your site's reputation and visibility.
In this post, we'll explain what backlinks are and why they're important for SEO. Then we'll offer guidance on how to use them properly. Let's get started!
An Introduction to Backlinks
Backlinks refer to any link that points towards your website. They're also known as 'inbound' links or 'incoming' links. Typically, when we talk about backlinks we're referring to links from outside your domain or 'external'. However, they can also be 'internal' – links from one page on your site to another.
External links are commonly used to redirect users to a trusted website that offers more information or authority on the subject of the post or page. If you're writing an article about the benefits of yoga, for example, you may link to another page that offers concrete research and evidence to support your argument.
The primary goal of backlinks is to improve users' experiences. However, backlinks from credible, relevant sites also tell Google your content is valuable, reliable, and worth ranking. They play a role in how search engines discover your webpages as well.
These platforms accomplish this via dofollow links. All backlinks are dofollow links by default and indicate to search engine crawlers that they should follow the link. However, site owners can also specify links as nofollow, preventing search engine bots from crawling them and making them irrelevant in terms of adding SEO value.
That said, this is usually done for a good reason. You might use a nofollow link if you're pointing to a questionable or unreliable source. This can help prevent your own site from losing trust and credibility with both users and search engines.
How Backlinks Impact SEO
According to a recent study, backlinks are the most important factor when it comes to SEO. Getting a backlink to your website is like receiving an endorsement. The more trusted sites that link to your page, the more search engines interpret it as a credible source worth ranking.
There are three main factors Google looks at when determining backlink quality:
Authority: Is the referring site credible and knowledgeable on the subject?
Relevance: Is the content being linked to relevant to the topic being discussed?
Trustworthiness: Does the link or site seem spammy?
The location and number of links within the content also matter. Typically, you want your links to be higher up on the page. It's also better to be one of a few high-quality backlinks than one of a dozen lower-quality ones.
Just as high-quality backlinks can improve your rankings, low-quality backlinks can hurt them. This is why link schemes, link spamming, and paying for backlinks are strongly discouraged. Posting links to your site in the comments of other people's content can be considered spam, subsequently causing search engines to penalize you.
It's wise to avoid linking to pages with low-domain authority and high spam scores, as well as sites that aren't irrelevant to your niche. You don't want to accept backlinks from these sources, either. We'll discuss how to get rid of them shortly.
How to Use Backlinks to Drive Traffic to Your Site (3 Strategies)
To improve your posts' SERP rankings, it's important to create and maintain a strong, quality backlink profile. Here are three ways to do that.
1. Create Unique and Valuable Content
To help increase your chances of credible, trustworthy websites linking back to you, you'll want to produce content that's worth sharing. However, determining what's considered 'link-worthy' can be tricky.
Put simply, valuable content provides the reader with something they need, be it information, a product, or something else entirely. Often times content creators approach this obstacle by thinking of what problems or questions their readers have and working backward to provide solutions.
Your content also needs to stand out from other sources. If you're covering a popular subject, try putting a unique spin on it. One technique is to incorporate visually appealing elements, such as infographics or videos:
When using links to other sites in your content, only link to trustworthy sources that are relevant to the topic you're writing about. Including quality, external links not only boosts the trustworthiness of your site but also increases your chances of receiving backlinks in return.
You can also incorporate internal links to other posts you've written. However, you don't want to overdo it and bombard your readers with links. Be they to other pages on your own site or to external sources, a large number of links increases the chances of readers leaving the page they're on.
2. Engage with Industry Authorities and Partners
Participating in discussions within your niche can help position your site as a relevant and trustworthy source. One strategy is to engage in discussions in others' comments sections, forums, and social media posts. To get attention within your niche, you should make your presence and interest known.
Another method is through guest blogging. Contributing a post on another website enables you to acquire a high-quality backlink from a source you have identified as relevant and trustworthy in your niche.
You can also use a tool such as BuzzSumo's Content Analyzer to research sites that have published content on topics similar to yours:

If they have previously written about subjects you now cover, these other sites may be interested in sharing your content with their readers. You can search a topic then export the list of results to narrow down sites to send outreach emails to.
Remember that it's important to focus on quality over quantity. You may be able to get a ton of backlinks from a variety of sites this way. However, they are only helpful if they come from reputable and relevant sources.
3. Track and Monitor Backlinks
There are several tools you can use to view your current backlinks. SEMRush, Moz, and Google Search Console are some popular options with this tracking feature. These tools can help you identify backlinks to your site from low-quality sources.
In the event you discover such links, the best thing you can do is reach out to the referring site and ask that the link be removed. If this isn't possible, however, you can always 'disavow' the link. This grants nofollow status to the link so it won't hurt your SEO.
You'll also want to be cognizant of the links that are on your own site. Spammers may leave comments on your website to generate backlinks to their own content. As we've mentioned, these spam links can hurt your SEO.
To avoid this, you can filter spam comments in your WordPress dashboard. Under Settings, click on Discussion: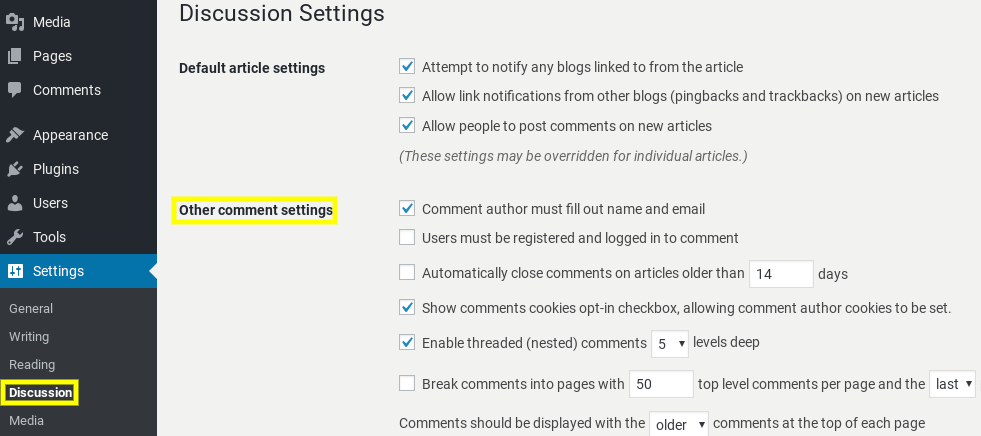 You'll have the option to disable comments entirely or to implement controls such as requiring users to register before commenting. Although these filters are helpful for preventing spam, they're not always entirely effective.
To supplement the native WordPress settings, you might consider our Manage Comments feature. This tool makes it easy to view all your comments in one place and choose which to approve.
It's also smart to monitor broken links to and from your site, as they result in poor user experience and can tank your site's rankings. Having a tool to identify broken links enables you to resolve them as quickly as possible.
Our Link Monitor feature automatically checks for unresponsive or broken links on your site and includes them in your monthly report. You'll then be able to resolve the issue in a timely fashion by removing the link, adding a nofollow tag, or replacing it:
By consistently monitoring the links on your site, you can prevent spam and broken links from hurting your SEO.
Conclusion
The quality and relevance of inbound links are two of the most important factors that determine your ranking position in search engines. Ignoring your site's backlinks could lead to a lack of traffic and conversions.
As we discussed in this post, there are a handful of methods you can use to acquire high-quality backlinks:
Create unique and valuable content.
Engage and partner with authoritative websites in your niche.
Track and monitor the links on and to your site.
Do you have any questions about using backlinks? Let us know in the comments section below!
Image credit: Pexels.